Ekaterina "Katja" Kurae

ZettaiRyouiki's Assistant Katja

First Blog

ZettaiBlog 52: Devilish Little Sister

Blog Summary

Home Plane

Seikon No Qwaser Universe
Origin and Personality
Edit
Courtesy of the Seikon No Qwaser wiki. Warning, spoilers are about
Edit
With Russian ethnicity and being no more than ten years old, Ekaterina has the beauty of a doll and as such is admired and regarded with awe by other girls. Fully aware of this, she presents herself as extremely shy, innocent, and child-like in public and amongst strangers; adopting the habit of addressing herself in third person to further her "cuteness."
Her true colors, however, are of that of a domineering, arrogant, prideful, and almost malicious queen. She uses her "innocent" image to seduce other women, particularly those with a lolicon or lesbian fetish, and emotionally and sexually dominates them into being her devoted Maria's. Ekaterina also refers to the gynoid as "mother" for reasons currently unknown. Also when Anastasia is destroyed, she gave her a burial and cried over her grave so she seems to sincerely believe she is her mother.
Katja is Zettai's newest assistant. She treats him nearly like a slave though he enjoys ever moment and insult. In return she makes sure that he has enough perversion in his blogs. She'll dominate him or encourage others to do so (or dress up).
Katja scored 91 points during her blog.
Appearance
Edit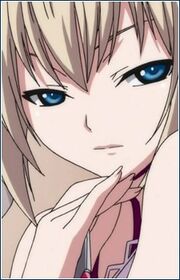 Katja has her hair tied in a long bands, with the ends open and letting out the rest in short parts. She wears a black dress that puffs out slightly at the bottom, with small white frills. On the dress she has a long black ribbon, with an metal emblem attached to it. On her legs, she has black thigh-high socks, with white trim and black ribbon running through it, and black shoes with a metal cross on the front.
Ad blocker interference detected!
Wikia is a free-to-use site that makes money from advertising. We have a modified experience for viewers using ad blockers

Wikia is not accessible if you've made further modifications. Remove the custom ad blocker rule(s) and the page will load as expected.